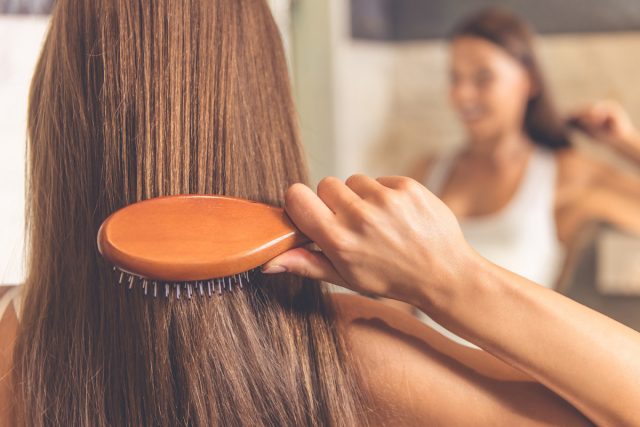 Hair conditioners came around to exist in the 20th century. Centuries before the hair was mostly conditioned using natural oil to make sure hair had moisture and was easier to manage. It has since then evolved and become a multi-billion-dollar industry. The modern-day conditioner was developed by a man named Ed; he was a reputed perfumer. He unveiled this conditioner at the Exposition Universelle in Paris, in 19000. It was formulated for men and was called Brilliante. So, what is a conditioner? Why is it important?
As per the dictionary, it is, a liquid applied to the hair after shampooing to improve its condition. These have been responsible for your hair is soft, shiny, thicker and better to touch. Conditioners like Paul Mitchell the conditioner are great for hair which needs intensive repair. It yields even better results if used with Paul Mitchell super skinny serum. Conditioners have become a necessity in our lives and we at cosmetize understand that. Conditioners primarily work on replacing sebum when the hair has been thoroughly washed and it is stripped of its natural oils. They are enriched and laden with 
Conditioners can help your hair externally, having a good and healthy diet is a necessity to have good hair inherently. There are different kinds of conditioners
Instant conditioners: Instant conditioners are the most common and widely used conditioners used today. These are generally applied right after your hair has been shampooed. It is left in for a few minutes before it is washed off. This conditioner is useful for someone who is always in a hurry and needs to have a quick wash and dry. These help in managing frizz because it has cationic agents which are positive in charge and are attracted to the negative charge of hair.
Deep conditioners: These conditioners are mostly useful for damaged hair. It generally involves using heat for helping your hair absorb the conditioner. The heat helps open up some of the breaks or opens up your hair shafts allowing better absorption of the conditioner. These are mostly found in cream form or even hot-oil treatments.
Leave-in conditioners: Leave-in conditioners are primarily used to style hair and leave it in your hair. They constitute the same things as an instant conditioner, but they add moisture and make sure your hair has extra shine.
Sunscreen conditioners: It's a no brainer that sun damages hair. Sunscreen conditioners help to protect hair that is being exposed to the sun for long hours. These can be combined with leave-in conditioners to make your hair have the benefit of both.
Generally acidic, conditioners have amino acids that have to give a positive charge to your hair. These result in the hair being sleeker and shinier. The way a conditioner works is that if your hair develops more hydrogen bonds in between keratin scales. This gives the hair a more tightly packed look. They are generally made with natural acids like citric acid. The ingredients of a hair conditioner vary as per the formulation. They generally have acidifiers, moisturisers, glossers, oils, thermal protectors, EFAs (Essential Fatty Acids), preservatives, anti-static agents, lubricants, sequestrants and more importantly surfactants.
Having the right conditioner is important and imperative. It makes sure it compliments your hair. A conditioner for dry hair isn't suitable for hair which is oily or limp. It would make your hair very oily. Choosing a conditioner is difficult at times because most people have a combination of different types of hair. Your hair is affected by the diet you have and the kind of lifestyle you lead. Make sure the ingredients are right for your skin and scalp. Do tests where you choose different products and see what works best for you. There is always a trial and error period. You should also be careful of the products you use, so decide on what you wish to put in your hair and your scalp. A conditioner makes sure your hair looks much better than usual. Have a back up to your regular conditioner, because your hair will get used to the conditioner you are using for a long period. It is always a wise choice to change your conditioner from time to time.