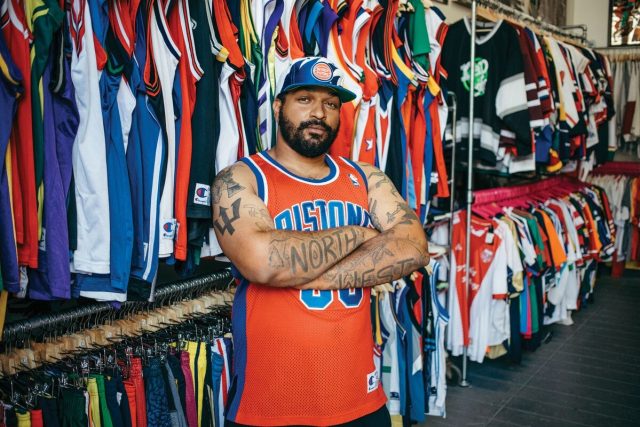 Players initially play basketball wearing any athletic clothing like football uniforms and tracksuits. However, the 20th century came, and the players began wearing their official uniforms. In the beginning, the NBA players were wearing jerseys and very short shorts, until Michael Jordan requested to have long, baggy shorts. Then, the rest of the players followed it as they found it more comfortable.  
On the other hand, nothing has changed on the jersey design since then, but in 2013, NBA and Adidas, the league's apparel partner at that time, introduced sleeved jerseys. However, players did not like the idea that even LeBron James tore the sleeves during a game in 2015.
The NBA started selling jerseys in the 1980s. It became a typical wardrobe for those who watched the game live, and young Americans also started wearing it as regular clothing. Since then, NBA jerseys are selling like hotcakes.
Below are the different types of jerseys available in the market today.
On-court jerseys
These jerseys are the most expensive among the rest of the jersey types, as it is the original version. Moreover, on-court jerseys are worn by the actual NBA players while playing the game, which is the reason behind its price tag. Only a few fans can afford this type of collectable item, and it is not supposed to be worn. 
Replica jerseys
These are the regular uniforms that most fans are buying. It is made to look like the on-court jerseys. However, the logo, player name, and team's wordmark are screen printed. It is the cheapest jersey type but made of good quality materials.
Swingman jerseys
These are the upgraded version of replica jerseys and a better copy of on-court jerseys. Moreover, it is made of performance-based materials, so it is more comfortable to wear than replicas. Swingman jerseys include Hardwood Classics and modern NBA uniform styles. They are more expensive than replicas as their materials are of higher quality and have a more sophisticated design.
Authentic jerseys
These are the real NBA jersey copies that the players are wearing. It has the same materials, trims, cutes, and aesthetic details used in on-court jerseys. Hence, they cost more than the swingman.
Throwback jerseys
These are also called retro, old school, Hardwood Classics, and vintage. But regardless of what the fans want to call it, these are the copies of old NBA Jerseys, at least a decade ago. These jerseys will let you walk down memory lane, remembering your favourite team or player during their golden years. You can have throwbacks in authentic, swingman, and replica versions.
Blood set jerseys
NBA equipment managers always carry an extra batch of jerseys each game in case of an emergency. If a player's jersey got ripped, he could wear one from the blood set. If not used, the jersey will become a G.I. jersey.
Game-Issued (G.I.) jersey
These are the NBA jerseys that are supposed to be used, but the player could not use it for some reason. They mostly came from the blood sets. Furthermore, some jerseys are produced for a player who gets sidelined or injured before he ever begins using it.
A true NBA fan will have a jersey piece in their closet, regardless of whether it is a replica, swingman, or authentic. These jerseys come in different sizes, so you can always buy something that you can wear to show your support to your favourite team.