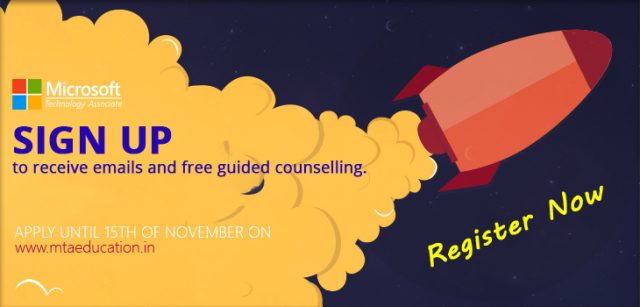 Here are some of the mentioned below frequently asked questions on MTA Training:
Q.1. What is MTA Training?
Ans: MTA stands for Microsoft Training Associate. It is an entry-level industry recognized certification which validates the basic knowledge in Microsoft products and technology. MTA Training is for the students, professionals who want to change their careers or want to explore anything else in a career in technology.
Q.2. What are all MTA Training Certifications There?
Ans: Following is the list of MTA Training certifications in different areas of IT:
98-364: Database Admin. Fundamentals
98-366: Networking Fundamentals
98-365: Windows Server Admin. Fundamentals
98-367: Security Fundamentals
98-375: HTML5 App Development Fundamentals
98-361: Software Developer Fundamentals
98-379: Software Testing Fundamentals
Q.3. Difference Between MTA and MCSA Certification Exam?
Ans: The Microsoft Technology Associate (MTA) certification is the first level of certification that helps people validate and showcase their skills and knowledge in the fundamentals of Microsoft technology. It provides a foundation for individual development in Technology for their careers and helps them gain the confidence they need to succeed in advanced studies. Microsoft Microsystems Certifications
The Certified Associates Solution (MCSA) certification is the next level of certification that helps people show their potential employers and admissions to official universities that have a deeper understanding of a specific technology. Obtaining multiple MCSA certifications indicates that the individual possesses a wide range of knowledge about different products, able to implement, build, solve problems and debug many different Microsoft technologies.
MTA and MCSA are the entry-level certifications in the professional career to become a Microsoft technology specialist. As individuals gain more experience in the use of Microsoft technology, they have the option to take an advanced exam to become Microsoft IT Professional, Professional Developer, Microsoft Certified Master and Microsoft Certified Architect.
Q.4. What are the advantages of MTA Training Certification?
Ans: The MTA training certification measures fundamental knowledge in the operating system, software development, and database design. The certificate can help people to have more confidence to compete in today's competitive job market and generate higher potential income. It can help employees increase their competence, productivity, and credibility with their colleagues and customers. The certification also helps an employer assign the right individual to the project quickly with the appropriate skill level and capabilities.
Below is a list of the benefits of obtaining a Microsoft certificate:
Validate your skills as a job seeker
Differentiate yourself from the competition
Get your resume noticed
Get recognition from your employer
Take advantage of the power of the Microsoft brand
Wrapping Up
So these were just a few of the frequently asked questions on Microsoft summer training. Therefore, if you want to know anything more about Summer Training in Kolkata go Microsoft forum for the same.