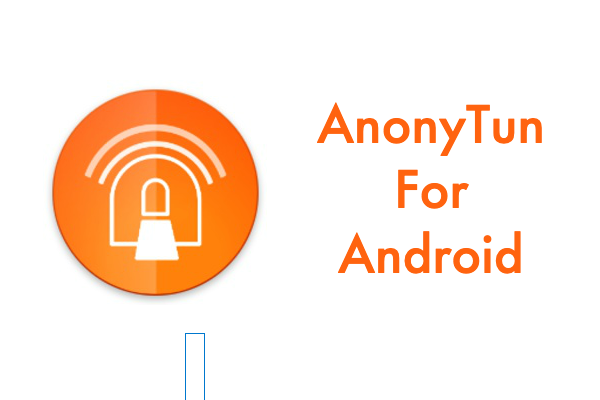 Introduction:
AnonyTun app acts as a camouflage to the actual IP address. This can be done either to secure one's data or to gain access to some websites. The usage is effortless; it connects to a server by itself and helps us in accessing various websites safely that had restrictions due to differences in the territory.
Besides the regular settings, one can advance features like changed communication protocol for the changed IP address. The interface is simple and quick; the essential buttons are present on the menu. If someone often uses the WiFi available publicly, they must have this app.
This app helps us in keeping our data safe even if we use public WiFi. The other benefits of using this app is that
it does not require us to register
it helps us in accessing unlimited data
it helps us in accessing websites irrespective of the heavy traffic
it passes any type of restriction
it is free to use
Steps to Download the AnonyTun App: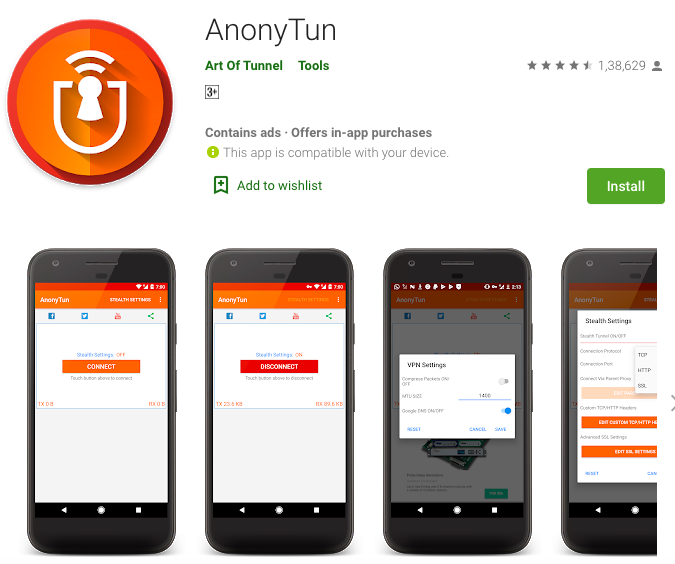 This app can be downloaded in either of the two versions; one is simple and the other is premium.
Downloading the Simple AnonyTun App:
The simple version of the app was released in March 2019. It comprises of all the basic features. It is downloadable in Android versions 4.0.3 and above. The file size is 2.3 MB and was developed by the 'Art of Tunnel'. The user needs to be patient with the ads running on the app.
Downloading the Premium AnonyTun App:
It is the pro or premium version of the application. Besides the basic features, this app gives the user access to various locations. This version is ad-free.
Also, AnonyTun for PC is available to download for free.
Notable Changes made in the AnonyTun app:
Since the release of the app, we have seen consistent changes to it making this app even more reliable. The notable changes are:
Super convenient
Unlimited bandwidth
Many proxy servers
Fixing of bugs
Support to placeholders
Installation of AnonyTun App:
Downloading and Installation of applications has been really simple, but with the additional security coming with the latest Android software, it is not the same. If this application is being downloaded and installed in the latest Android device, then one may face some difficulties. Mentioned below are some steps that we can follow to install this application without any chaos.
The initial step is to download the file of the AnonyTun App.
After downloading, it is important to make sure that our device is allowing us to install applications other than from Play Store.
To allow this, go to Management then Security and check the Unknown Source.
After this is done, click to install the application. We need to be patient until the installation is successful.
The AnonyTun application is ready to use!
Features of AnonyTun Application:
AnonyTun app stands out from the other VPN hiding applications due to various reasons. Few unique features of the AnonTun app are mentioned here:
It is Free, no fee required
Neat and orderly design
User-friendly design with a simple interface
Registration is not needed
Accessible even without Root
It is fast and secure
Connects with high-speed
Unlimited Bandwidth; No Bandwidth limitation
HTTP Tunnel, TCP Tunnel, and SSL Tunnel,
Can Bypass any type of restriction
Using AnonyTun App:
This app can be used when one does not have internet balance or has forgotten to recharge due to some reason.
As soon as we launch the AnonyTun app, we can see a screen that gives us options to remove ads; it has buttons for browser, Facebook, Twitter, YouTube and an option to share. To start using the app, we need to click on more options (i.e., three dots placed vertically on the top right corner of the screen). We see options as VPN Settings, Notification, About and Quit.
Go to VPN Settings, we see three options again; Compress Packets ON/OFF, MTU Size and Google DNS ON/OFF.
To turn on the VPN settings, we need to toggle Compressed Packets to ON and click on Save. The settings can be reset or can be canceled as well. So, after saving the settings we come back to the home screen of this app.
Now click on Stealth Settings, here we see Turning Stealth Settings On/Off, once this is turned On, we can access the Connection Protocol options. First, we click Stealth Settings to ON mode, we see Connection Protocol and Connection Port options become accessible. Connection Protocol can be TCP, HTTP or SSL. We select it to be HTTP. The connection port is left as default: 8080. Connect via Parent Proxy is left OFF.
Custom TCP/HTTP Headers is turned ON and that helps us in editing these headers. By clicking on Edit Custom headers, we need to edit this. We see 'm.facebook.com', the 'm' is to be replaced with '0'. The request method is 'Connect' by default; it has to be changed to 'Get'. All the Extra headers (i.e., Online Host, Forward Host, Reverse Proxy, Keep-Alive, and User-agent) are to be selected or checked. After these are done, click on Generate and Save. Click on Save again. We now come back to the home screen of the AnonyTun app. Now click on Connect. This completes our task! We can now enjoy using the internet unlimitedly; if any ads are pop-up, just click on Close.