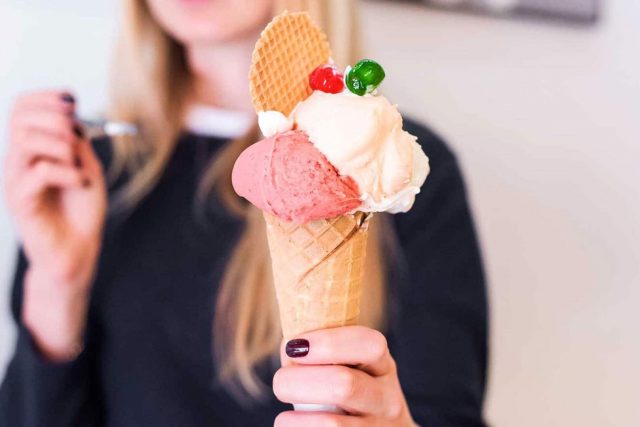 Frozen and cold treats have always been crowd favourites. Nearly everyone, regardless of age, craves ice cream whether it is hot or cold.
With an ever-present large target market that you can easily penetrate, starting an ice cream business can be a smart decision for any up-and-coming food entrepreneur.
Your love for frozen treats, interest in starting a food business, and startup capital though, won't ensure you have a smooth ride to success. You have your work cut out for you as you open an ice cream shop or truck.
If you are serious about putting your dreams of opening an ice cream business, here are seven tips that can help you get started on the right track:
1. Broaden your knowledge about ice cream
Being familiar with the different popular ice cream flavours (and liking them) is a must but not enough to take you far when you open your business, especially if you want to make your own products.
Taking up an ice cream making course allows you to know the ins and outs of ice cream manufacturing. These programs enable students to learn about various aspects of this product, which include flavouring, freezing, and refrigeration.
You will also get insights about quality control and research and development.
If you plan to sell unique or artisanal ice cream, you will do well to take up a course that teaches the process of making it. In Dubai, one option is enrolling in the ICCA Artisan Gelato Training Course.
This program teaches students how to make the famous Italian-style frozen dessert. From milk-based to sorbets and yogurt and cake gelato, you will learn how to do all of them during the duration of the course.
With the knowledge and skills you get from these courses, you can create a more exciting, versatile menu, one that can work to your advantage.
2. Select your business model
There are different ways to start an ice cream business. You can get a franchise, open a shop, or operate an ice cream truck.
Getting a franchise is often the easiest way to open your ice cream business. By being a franchisee, you will get help from the franchisor from the start of your deal. Moreover, you will have a business plan to follow and ready products and equipment to use.
Being a franchisee, however, is usually the most expensive option since franchises are sold at top dollar. Additionally, some companies are strict with their menu items. If you want to make and sell your own frozen treats, you may not be allowed to do so.
If you want to sell specialty ice cream, opening a shop or kiosk under your own brand is your best option. Find a space you can rent within your budget and in an area where you can get customers.
Another option would be to operate an ice cream truck. Although you will need the same set of equipment when you set up a shop, a mobile one gives you more flexibility and involves lower costs since you don't have to pay monthly rents.
Before you choose your final business model, make sure you understand all the pros and cons of each one to avoid regretting your decision and wasting your time and money.
3. Pick your location wisely
If you want to open an ice cream parlour or kiosk, you need to research all your potential locations as thoroughly as possible.
This is because for many consumers, ice cream is still an impulse purchase. As such, you need to find a location that receives plenty of foot traffic so your business can benefit from the additional drop-in customers.
To conduct your research correctly, get as much details as you can about the visibility of your preferred space and average numbers of passersby daily.
Keep in mind that a good location can be the difference between the success and failure of your new business, especially if your store will be dependent on local residents, shoppers, and visitors.
4. Have a plan
Regardless of the model you choose and how small or big you want to go, creating a business plan will help you have a more productive start as you put up your ice cream store.
Your business plan serves as your road map as you enter the frozen dessert market. Aside from identifying which business model you want to follow, it should include your budget, location, list of suppliers and regular supplies you need, and a number of employees you want to hire.
It should include your sales projections as well.
To create a good business plan, study your competition, identify and understand your target market, and think about your brand and style.
5. Know the legal requirements of opening an ice cream business
Opening a business entails completing various paperwork, which includes different licenses and permits. Since you are entering the food industry, you may be required to obtain more.
Some examples of the paperwork you have to get are a business license or permit and food handler and health inspection certificates. There are other documents you have to complete if you decide to operate an ice cream truck.
Make sure you know all these requirements and complete them before you officially open your ice cream business to avoid penalties and hassles in the future.
6. Create a smart menu
The frozen dessert market is highly competitive, with hundreds of stores selling this product within one city alone. If you want to succeed, you need to stand out from the competition.
Including classic flavours, such as chocolate, vanilla, pistachio, and cookies and cream ensures you get sales since there are always customers that buy them. Additionally, you can use them in your other menu items, such as shakes, parfaits, and ice cream cakes, which means they won't have to go waste.
If you want to open a speciality ice cream shop, you won't go wrong with putting gelato and artisanal ice cream front and centre. You can also target health-conscious consumers by offering sugar-free frozen desserts and yogurt.
However, try not to go overboard with your menu items. Keep the number to under ten since you are starting. Add more flavours or products once you understand your target consumers or get specific requests from your repeat customers.
Although your food business is in the frozen treats market, it can still fizzle out anytime. As such, follow these tips to ensure your ice cream's store success.