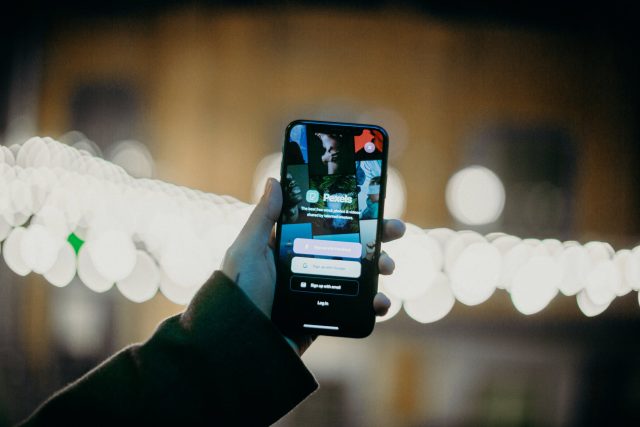 All of us have the uncanny habit of looking at our smart handheld throughout the day on various occasions. Sometimes we have the abject need to access our phones, and sometimes, we just look at the screen and scroll content out of the habit or boredom. Naturally, with most of us glued to the mobile screen for the better part of the day and night, all businesses are hell-bent on building apps for us. This is why the designers are always experimenting and trying new ways to make apps more usable and user optimized.
Let us explain some of the key mobile app design trends that evolved in recent years. 
Larger phone screen
The smaller smartphone screen is no longer considered cute and useful, and this trend even prompted Apple to reshape their devices with larger screens and deliver a large screen variant of the same configuration of every subsequent iPhone update. On the one hand, larger screen devices created more device choices, and on the other hand, this has become an elementary design element the app developers and designers need to consider.
Large screen mobile devices are also paving the way for new navigation design and placement if various on-screen buttons and clickable elements. This provided designers with more ease and flexibility with respect to placing the clickable elements in a highly accessible manner for both hands.
Swiping
While using the "Swipe" gesture as an active interaction was introduced by the dating app Tinder years ago in 2012, the situation with the popularity of this design element has not been changed much since then. Over a period of a few years, Swipe became the new alternative to click or tap for mobile app users. Swiping, as the most dominant gesture, is now being used by a plethora of leading apps across the niches.
Thanks to the active use of Swipe gesture as an interactive element, designers ultimately could do without the Delete button in the email and chat messaging apps. The Swipe button is used for different contexts as per the purpose and relevance. For example, in music apps, Swipe action is used for changing the track or for switching to the next image in a photo app.
More Movement
To your surprise, a smartphone now has more computing power than all the manpower combined together of NASA or the computing power of the supercomputer that years ago won a match against chess maestro Gary Kasparov. But while every app is trying hard to utilize this computing power to the fullest extent deliver users a superior user experience, it is the speed and performance that matters most for mobile apps now.
This is why the increasing use of movement elements in the app design became so popular. The movement of on-screen elements can quickly draw the attention of the audience to specific items, guide users to relevant action, and deliver a better user experience. No wonder the use of HTML5 animation and parallax design is getting popular among mobile apps.
Less time-consuming design
As of now, this has been the most critical design trend. Users usually prefer apps that help them do what they want at a faster pace. To help users get their required things done without any waiting time is the key design consideration. Let us provide below some of the effective measures and techniques to ensure the least-time consuming user interface (UI) and user experience (UX).
Many apps that focus on single-user activity and interaction will prefer a linear user journey to help users interact following a fixed path encompassing single action at every step. Connecting user actions in a logically predictable manner will help to maintain a linear structure. Minimizing user interactions for carrying out any task should be the goal of the app developer or designer.
Progressive disclosure is a great way to unveil digital products in a systematic and progressive manner over time. This technique can also reduce the cognitive load from the app and thus can enhance the user experience.
Providing on-screen guidance and assistance is another way of making things easier for the users and helping them to carry out tasks quicker.
The app can also utilize the location data to make search function and several other actions simple. The auto-detection of location can help users with options that are offered to the respective location.
Anticipatory design based on previous user interactions can also limit the number of choices to the most relevant ones and help users get what they want much faster.
Utilizing certain device sensors and technologies like biometric sensors as well as face detection can also help app users to complete certain tasks like authentication, login, and registration, and personal verification.
Offline-First Experience
Last but not least of all, design innovations that helped to make mobile apps better than ever
before is offline access to content and specific features. If users can access the app functions and content when the network is down, this will only improve the user experience. Considering this, these days, app designers and developers are increasingly focusing on an offline-first app user experience.
According to Google, many emerging markets where mobile penetration is just experiencing a rise are still pained by frequent network failure and non-availability. In these markets, apps with offline access to content are likely to enjoy more popularity and patronage than other markets. In fact, apps to be successful in these markets, offering offline-first experience is a must.
Conclusion
The mobile app design trends mentioned above have one thing in common. They are all concerned more about the user experience than so-called aesthetic elements and trending features. When it comes to offering superior and user-focused expertise, most of the recent app design trends seem to have the same goal.