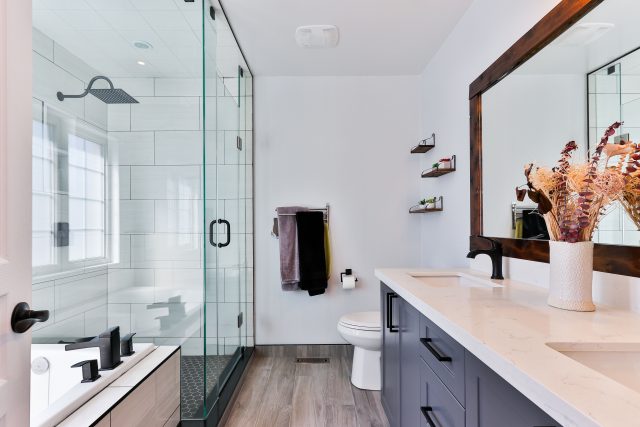 The bathroom is one of the most frequently used areas in the home, and a study finds that the average person will spend 416 days of their life grooming, bathing, showering, or attending to other personal needs in the bathroom. Moreover, the research indicates that 30 percent of individuals are dissatisfied with their bathroom and that it takes several years before the average person considers making any changes to their bathroom design. Having a functional and beautiful space where you can bathe and shower not only allows you to enjoy your bathroom, but it also increases the value of your home. Here are some design ideas to revamp your bathroom.
Give your shower space a spa-like vibe
One of the first things that you have to change up is your shower area. Whether your home has a closed-in or open shower space, you'll need to ensure that it's safe, functional, and aesthetically pleasing so you can enjoy it for many years. If you have an over-bath shower, consider transforming your shower area to make it more spa-like by installing a wet room or walk-in shower. Although there are distinct differences between the two, both will lend that spa-like quality to your bathroom. Install a huge rain shower head, then add a shower bench on one side or corner of the shower space. Replace old ceramic tiles with something a little more modern, such as shower panels in light grey or dark gray, and trade in the shower curtain for a glass or acrylic sliding door. Adding indirect ceiling lighting in the shower space can also enhance the spa-like vibe of the shower area. Finally, instead of using a shower caddy, make a recess or a niche in the shower wall to store your bath items and to keep the wet room clutter-free.
Upgrade the fixtures
Nothing feels more luxurious than adding a little bit of gold or rose gold to your bathroom. Consider upgrading your taps, cabinet handles and pulls by swapping them out for brushed gold or rose-gold ones. Add some matching accessories in the same finish, such as a brushed gold mirror and a tiny trash can.
Decorate with some artwork
There's no reason why you can't add a little bit of art into your bathroom. You can frame your favorite prints and hang them on the wall, or choose moisture-proof, replaceable artwork to decorate your space. If you're hanging multiple framed pictures or artwork, make sure to follow a theme to make it look more cohesive. You can also choose to have just one large piece on the wall to serve as a focal point and to make your bathroom look less cluttered.
Add some plants
Indoor plants can breathe life into any room, including the bathroom. Some plants that will thrive well in the bathroom include snake plants, peace lilies, spider plants and aloe vera, as they don't need a lot of sunlight to survive. Tropical plants will also do well in the bathroom since they're already used to hot and humid conditions, so consider placing a potted orchid, bromeliad, or a tropical pitcher plant on your bathroom counter. Make sure to place them in pretty pots that complement your bathroom decor, and keep the top soil watered to keep your plants healthy.
Consider these design ideas to makeover your bathroom. You'll enjoy spending time in a beautiful and functional space for years to come.
​