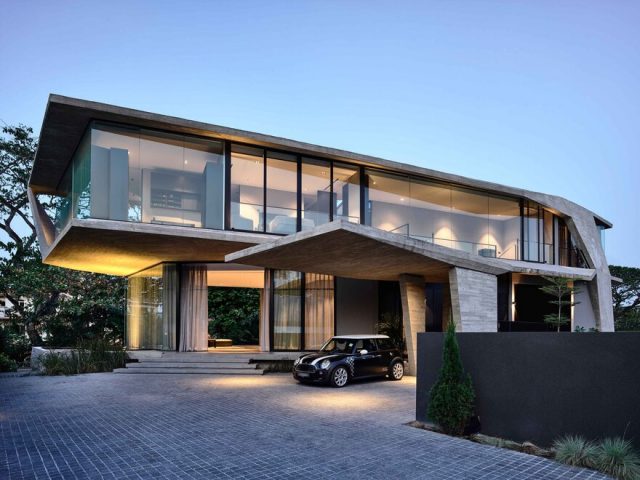 According to home and lifestyle magazines, one of the main reasons why many homeowners are continually improving their houses is because it is the safest place to pursue their desires. Everybody recognizes that a home is a possession that one has full creative liberty to turn into anything they want, as long as they have the budget for it.
Besides that, a house usually serves as an extension of one's character. When other outlets reach the end of their potential, home continues to offer possibilities for a homeowner's personality and life goals to manifest.
Therefore, if your style as a homeowner has morphed over the years, there are abundant ways for you to display this transformation through your abode. Here are eight ways to do that without going overboard with your budget.
Highlight the height of your home interior.
One crucial piece of advice interior designers share about giving homes a more luxurious appearance is to draw attention to the height of the interior. The easiest way to do this is to bring your drapes or curtains up where the ceiling and wall intersect and make sure that these window treatments reach the floor.
Want to go out of the box for this? Instead of fancy curtain rods, upcycle sporting equipment such as a boat paddle or golf club.
Give concrete the look of precious stone or metal.
If you have jumped on the bandwagon of using a lot of concrete in your home interior, this may be one of the best design decisions you have made. Concrete, apart from being quite durable, is also an economical and versatile material for upcycling projects. Plus, with creative treatment, it can take on the look of a variety of high-end surface materials.
For example, you can upcycle an old metal tool cabinet and turn it into a movable kitchen counter. Top it with a concrete slab (which you can DIY using a cement kit) upgraded using interior decorative paint and it'll be as pretty as a stone top counter.
Consider such a design upgrade for any concrete element in your interior, and if you want to make the surfaces even more elegant, pair interior decorative paint with special decorative paint finishes. With these finishes, concrete surfaces can look like semi-precious stones such as quartz, amethyst, onyx, and marble, as well as brushed metal, which are all more expensive materials.
Put in more mirrors.
Mirrors are typically used to trick the eyes into perceiving spaces as being larger, but they are affordable investments in making your home interior more elegant.
Opt for big-framed mirrors (again, to draw attention to the height of the room). And, if your house isn't as symmetrical as you want it to be due to the awkward placement of windows and doors, you can create faux windows and doors using mirrors.
If you're up for an upcycling project, turn a big rectangular or square mirror you own into a faux French window. All you need is a wood frame and thin slats of wood to create panels in the mirror.
Create a story with your framed wall art.
If you have a collection of paintings for wall art, think about how you can create a story for them, especially if you want to cover your walls with colourful artwork.
Say, you have a painting of a favourite destination, and there are no other paintings like it in your collection. Find images of an aeroplane, car, or boat from books, magazines, and newspapers. Frame these to serve as additional pieces of wall art to build up the value of your beloved painting.
Splurge a bit on getting rid of awkward spaces.
A noteworthy quality of a luxurious space is that there are no awkward spaces or areas that have no real value and can even affect the visuals of the room.
The best way to get rid of awkward spaces is to install bespoke shelves or cabinets. These bespoke elements will not only make the space more useful, but they can also frame accent pieces, such as a big wall-mount TV, a huge painting, or a fireplace.
Some people think that interior fit-out solutions are expensive, but this isn't true. It is, in fact, more economical to have bespoke shelves and cabinets made than to purchase storage solutions from the store that do not even fit perfectly into odd spaces. Plus, if you have materials from another property or space that's been torn down, some fit-out companies have no issue using salvaged materials to turn into bespoke cabinetry.
Modify the features you can't replace.
Sometimes, you're not allowed to get rid of certain room features even if they're dated and ugly. If such is the case, turn again to paint. Paint, undoubtedly, is the most useful ingredient for a home makeover. A fresh coat of paint is all it takes to make the things you're not allowed to replace look like something new and completely different.
For example, if you have those high-quality wood cabinets or cupboards in your kitchen that a talented grandparent made, make them look more contemporary by painting them a new colour. Alternatively, make old cabinets look like new by spray-painting the knobs and pulls and then accessorizing them with recycled vintage buttons or the elegant caps of designer perfumes.
Pay attention to the quality of the small details.
A change of hardware, as previously mentioned, can do wonders in elevating the look of a room. They can make colours pop and add a gorgeous texture. The lovelier thing about doing this is that it's most likely one of the most affordable aspects of the project.
You can get high-quality handles and doorknobs for quite cheap in home depots and hobby shops. You can even get them from yard sales and flea markets if you want to be frugal. And if you want to pare down your belongings by upcycling some things, you can bend pretty spoons and form them into door handles.
Rearrange your furniture.
Once you're done painting surfaces and giving your floors, walls, and countertops a luxurious stone look, take the time to experiment with the placement of the different furniture pieces in your home.
Finding a different location for the bed or the living room set can beautifully highlight the fresh colour scheme and, at the same time, make the room more stylish and cosy. It's important to mention as well that when you rearrange your furniture, this offers you new possibilities with decor. And the best thing about this design trick? It doesn't cost anything to execute.
Making your dwelling space a truly stylish sanctuary usually costs a lot of money. Still, with the strategic solutions shared above, you can achieve the look you want even with quite a modest budget.