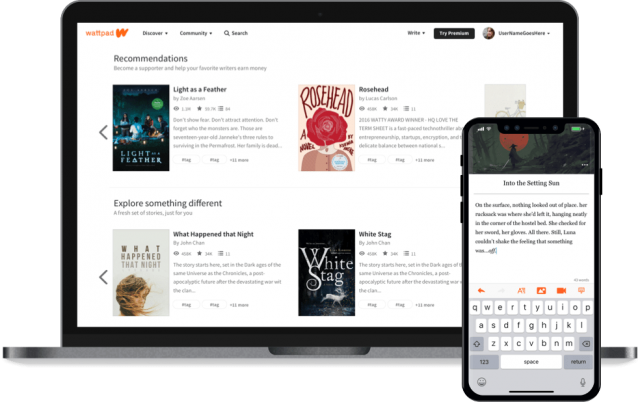 All you need to know about Wattpad
Wattpad is an excellent platform for authors to create a network for themselves, and also build a fan following of readers for their content. Wattpad has helped a lot of authors to start their career. Several authors believe that the Wattpad app has been the best thing for them.
Let us understand what exactly Wattpad is before we talk about the Wattpad app download.
What is Wattpad?
Wattpad is famous as a storytelling platform among users. Wattpad app makes use of community and technology to help writers publish their work in front of the audience. Even the writers get a chance to read something amazing when they download the Wattpad app.
Wattpad app has reached more than 60 million users every month from all over the world, and there is a reason why people choose the Wattpad app download. Let us have a look at some of the reasons why people download the Wattpad app.
Talent Discovery
Wattpad app can be considered as a platform for showcasing the talent of writers. Anyone can publish their work here for free, but the competition here is very tough due to which not many people stay here. The best ones on the Wattpad app are connected with movie production houses and publishing houses which gives a boost to their careers.

Social Platform
Wattpad is similar to a social networking site, but the one that is much preferable by readers and writers. You will be able to discover stories that have come out from the hearts of some of the upcoming writers. There is no limit to a genre on the Wattpad app as the writers are free to post whatever they wish.

Technology
There are several story uploads on the Wattpad app, and Wattpad makes use of AI and Machine Learning to spot some of the brightest stories among all uploads. The users get a chance to read the stories from their favorite writers on their mobile phones through the Wattpad app download.
Wattpad app offers a lot to the writers and the readers. Now, let us have a look at some of the features, or we can say services that are offered by the Wattpad app.
Features of Wattpad App
Inline Commenting
Wattpad app introduced this feature in 2014, and it started like a rocket. Inline comments have turned out to be a perfect way for the audiences to provide feedback even to particular prose. The inline commenting feature of Wattpad has also turned out to be very helpful for making edits for the writers.

Multimedia
Wattpad app had introduced embedded multimedia in 2015. It turned out to be a delighting feature for the users of Wattpad. The storytellers were able to enhance their works with the help of GIFs, videos, and images. Today, the Wattpad app has several multimedia stories as well as comics in the app.

Broadcast Messaging
Wattpad app came up with the feature of broadcast messages, which made it easy for the readers and fans to connect from all over the world. The broadcasting feature of Wattpad made it easy for the writers to share their stories and contents easily to everyone who is waiting for their contents.

Curated Recommendations
When you vote the stories on Wattpad, it starts analyzing your suggestions which eventually makes the Wattpad app better for you. Whenever you comment, follow, vote, or add books in your reading lists, it helps Wattpad to understand your preferences and suggest accordingly. Wattpad download increased a lot because of this feature.

Offline Reading
Offline Reading is the perfect feature that you need when you are in any zone where you cannot get access to data or wifi. Wattpad app came up with this feature to entertain its users even when they cannot access the Wattpad app with internet connectivity. Wattpad app will sync your library to your phone so that you can enjoy the stories even without internet connectivity. This feature increased the Wattpad app download.

Writer Analytics
Every writer needs to know how their story is doing once it is uploaded on Wattpad. Wattpad app dashboard provides all the necessary information that could help the writer strategize its stories for attracting more fans on Wattpad.

Wattpad Futures
Writing is a hobby, but when your hobby can earn you some money, it becomes the best thing. Wattpad Futures helps the writers in earning money for writing. The writers need to insert ads in between their chapters in order to increase their potential of earning on the Wattpad app.
These are some of the features that are provided by the Wattpad app, and some of these reasons were responsible for increasing the Wattpad app download.
Final Thoughts
Wattpad app is an excellent resource for upcoming writers to showcase their talents and get value for it. Wattpad can be a great start for you as an author to gain fame as well as some income. You will be able to find several fans on the Wattpad app and increase your connections with readers as well as writers. In recent times, the Wattpad app download increased to a huge extent as people wanted to try out their creativity on a free medium before they get into the professional world as an author.
You can perform a Wattpad app download for Android and iOS from the below-mentioned links.