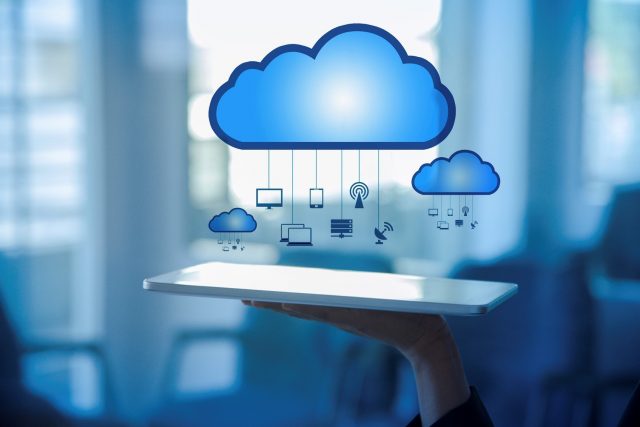 With the development of science and technology, nowadays computers can help us accomplish more and more things, whether, in work or life, it has become an indispensable part. When we use computers to process all affairs, more and more data are stored and saved in them, and many important files are things that we can't lose.
Cloud backup is your best choice to protect these important data. Due to its remote characteristics, your data will be placed on a remote server. In this case, even if it suffers from serious disasters such as floods, fires, tsunamis, Raiden and others do not have to worry about the loss of these backed up data.
The cloud backup services currently on the market are diverse and have their own characteristics. This guide will introduce 5 best cloud backup services in 2020, which can effectively protect your important data and meet the needs of different groups of people. Keep reading to choose the one that suits you best.
IDrive
IDrive is a user-friendly cloud backup and storage service. Like most cloud storage services, it provides 5GB of storage space for free for newly registered accounts. IDrive is suitable for all devices and provides corresponding plans for individuals, small businesses, and enterprises, which can meet the needs of organizations that do not.

For:
It supports free disk shipping data transfer.
It supports permanent retention of old file versions.
Express service supports storing data on the hard disk and can create a complete disk image.
Against:
No support for ordering unlimited storage plans.
The speed of restoring backup files is relatively slow.
Basic users can use relatively limited functions.
CrashPlan
CrashPlan is a comprehensive cloud backup service. Although it does not provide a free account, it is different from many backup services that try to compete in both price and function. CrashPlan has the right price and rich functions, and has a place among the best online backup services.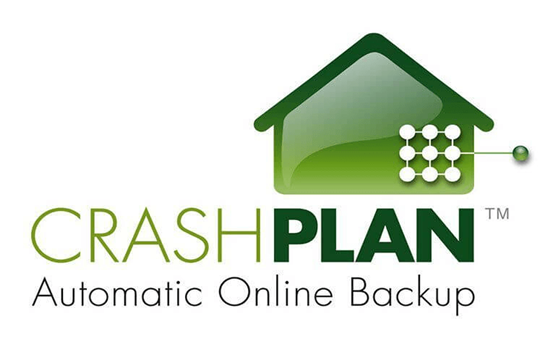 For:
It supports unlimited storage space and version control.
It supports a zero file size limit.
It supports backing up files in mapped drives.
Against:
No file sharing function.
Cannot restore large files through the web.
Does not support offline backup or restoration of data.
cBackupper
cBackupper is not only a free cloud backup service, but also a professional multi-cloud space aggregator. It supports combining the free space of your multiple cloud storage services (such as Google Drive, Dropbox, OneDrive) accounts, and the large space formed by this combination can be used to back up data. It also supports cloud-to-cloud backup, which can effectively prevent data loss from cloud disks caused by accidents.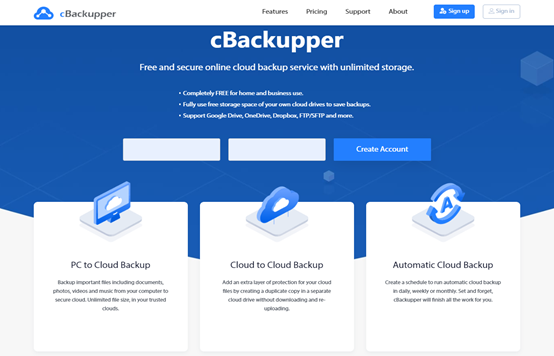 For:
It supports free combination of unlimited online storage space.
It supports backup and data access between multiple clouds on one platform.
It supports offline backup and does not limit the size of a single backup file.
Against:
The number of cloud disks currently supported is limited.
Enough cloud disks can reach unlimited storage space.
Carbonite
As a popular cloud backup service, Carbonite is easy to use and reliable, and you can back up data unlimitedly if you order any backup plan. Not only that, Carbonite has applications available for iPhone and Android systems, and can use the BlackBerry app. In addition to personal cloud backup services, Carbonite's enterprise-level cloud backup plans are also popular.

For:
It supports a 15-day free trial.
It supports adding files/folders to Carbonite backup from Windows Explorer.
It supports backing up an unlimited amount of data and can maintain continuous backup of content.
Against:
Low cost performance in comparison.
If you need to back up large files, you can only select manually.
Unlimited file version is not supported, limited to 30 days.
SpiderOak
SpiderOak is a highly secure and easy-to-use cloud backup service. The company attaches great importance to SpiderOak's access to files, back up files to it, and it will never see your data. It is very suitable for users who want to guarantee 100% data security. Not only that, but the SpiderOak program is also useful and is a good choice for users who value privacy and security.

For:
It supports file sharing function.
It supports backing up data from external and mapped drives.
It supports data backup from unlimited devices and does not limit file size.
Against:
Cannot backup or restore data offline.
No unlimited storage options in the storage plan.
The price is higher than other services.
Final Thoughts
The above five services to backup pc to cloud are the five most prominent services in all aspects in 2020, but other high-quality backup providers are not listed in this article, including Backblaze, SugarSync, SOS Online Backup, etc. If you are interested in them, you can also have a try.
The several services in this article have their own characteristics in all aspects. I believe that there is always one that is best for you. If you have not been exposed to cloud backup services, please act quickly.