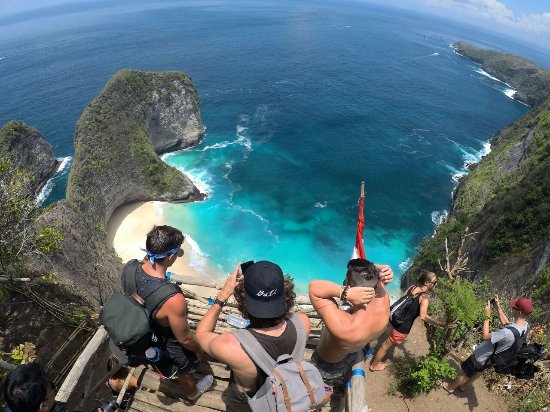 Planning a trip to Bali and want to experience a slice of real island life? Then visit Nusa Penida, the largest of the amazing three Nusa Islands which are situated close to the mainland of Bali. It is one of the best places for the one day tour.
The Nusa Islands are made up of three islands, i.e, Nusa Penida, Nusa Lembongan, and Nusa Ceningan. It is one of the most beautiful islands that provides amazing landscapes views. It is one of the best escapes from the bustling Bali vibes.
Here is a list of things to do on a one day trip to Nusa Penida –
Enjoy the view at Kelingking T-Rex
When looking for the things to do in Nusa Penida, this is the first spot that you should mention in your list. Nusa Penida is a place that is filled with so many amazing views that it becomes really very difficult to choose one. But this cliff forming the shape of T-Rex at the Kelingking Secret Point Beach is one of the favorite places of the crowd. The iconic view from the top of the cliff will definitely leave you mesmerized.
Also, the Kelingking beach is not a place that should be missed. Climb down the Kelingking cliff to witness the most beautiful, secluded, white sand, pristine beach with turquoise water.
Visit the magical spot – Angel's Billabong
Angel's Billabong is one of the most beautiful and magical spots. It is a naturally formed infinity pool on the east coast of Nusa Penida. It is famous because of its spectacular rock formation on Nusa Penida's island. The water here is so clear that you can even see the texture and patterns beneath the surface. Apart from that, the beautiful landscape makes it a perfect place for photography.
Broken Beach – An Instagram famous place
Situated at the southwest coast of the Nusa Penida, this spot is a must to visit. This incredible little cove on the Nusa Penida is just 2 minutes' walk away from Angel's Billabong. It is named the broken beach because of the archway that wraps around the bay allowing water to flow in and out. The picturesque views of this place make it Instagram famous. You can click Instagramm worthy pictures at this place.
Relax at the Crystal Bay Beach
Tired? Want to take a break? Well, crystal beach is the best place to relax. You can also find some bean bags, snacks, and drinks while you relax on the pristine and white sand beach. The crystal clear water here makes it a perfect and prime spot for snorkeling. You can spend time here to soak yourself in the sun and also witness the most beautiful and exotic sunset. Also, don't forget to capture these beautiful moments.
Pulau Seribu – A group of thousand islands
Pulau Seribu means a thousand islands. This is a group of thousand islands that lies on the east coast of Nusa Penida. It is not one of the popular or well-known attractions but it is definitely worth visiting. From sparkling blue water and palm trees to a handful of tall rocky islands covered in foliage, the viewpoints it offers is stunning.
Go for snorkeling at the Manta Point
Manta point is one of the best locations in Nusa Penida for amazing views. It is a 5 minutes ride from the Peguyangan Waterfalls. It is an ultimate spot for snorkeling experience on the Nusa Penida in Bali. If you are at Nusa Lembongan and want to reach Nusa Penida, you can go for a boat ride and can also experience swimming with giant manta rays.
Peguyangan Waterfalls (Blue Stairs)
Located on the southeast coast of Nusa Penida, Peguyangan Waterfalls sits at the bottom of the pretty epic cliffs. It is also known as the blue stairs. This iconic blue staircase leads you down a cliffside pathway to a sacred water temple and also the pilgrimage site for locals. The combination of tradition and culture of the sacred temple and waterfall makes it a perfect blend in the spot. Don't forget to capture this beautiful view!
Spend some alone time at Suwehan Beach
To spend some alone time you can visit Suwehan Beach. It is considered to be the hidden beach in Nusa Penida. Here you can find more white sand and large stone shaped like a triangle. You can also visit Puseh Suwehan Temple that is located above the beach. It is believed that the nine wells here are holy springs.
These are some of the places that you can visit in Nusa Penida to spend your day. Pickyourtrail is there to plan a perfect trip to Bali for you. We have got exciting Bali tour packages as well as Bali packages that you can take advantage of. So time to pack your bags and leave everything on us. Get ready for one of the most exciting and memorable trips of your life.