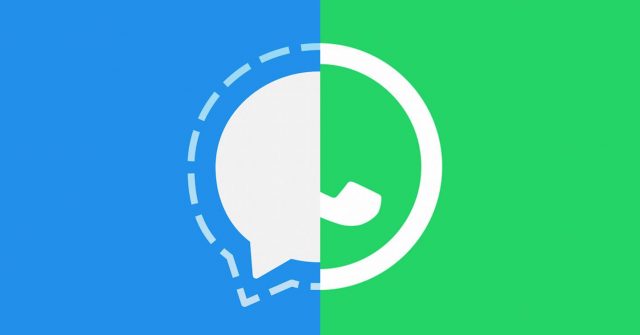 A comparison between the two apps has emerged in the current time. Whatsapp, being the largest instant messaging app, has updated its privacy policy and has announced that its users' details and messages would now be shared with Facebook Inc, which is their owner. People now have become aware of the privacy issues, and some are opting for new messaging apps to skip the mandatory ruling by Whatsapp. After Whatsapp is Telegram, the closest competitor, and then there is a newcomer in this market, named Signal.
Signal is a messaging app that has many similar features to Whatsapp. Currently, it's trending online for its personalization, encryption, and media sharing features. It can be operated on multiple platforms, including Mac OS X and Linux software. This article will conduct a comparative study between Whatsapp and Signal to see which one has better service.
Comparison between the features:
While Whatsapp has been the leading messaging service app for a long time now, with nearly 2 billion users worldwide, Signal has caught up with the mass, gaining 10-20 million users within three weeks from its launch. Now, let us see the features of these two messaging apps.
Interface: The UI of Whatsapp is very straightforward and easy to use. It does not require any kinds of registering or requirements to open an account. The people in your contact list of the phone automatically appear on your Whatsapp chat list. However, in the Signal app, you need to agree to a number of permissions like the permission to use your contact list, send SMS, and others to start operating.
Usage: Whatsapp is a messaging app that can be used within some phones as a double account if a user has two different numbers. However, this does not apply to Signal, as it can only be used in a single device. Also, the phone number of your contact acts as identification in the case of Whatsapp. In Signal, you need to give your contact list permission on the phone, then only you can message somebody.
Popularity: When it comes to popularity and number of users, Whatsapp will win by a big margin. In 2018, Whatsapp reported that it has 2 billion users worldwide, but Signal has only 10-20 million (roughly) users currently. However, the number of Signal users is growing fast, and it can give quite a tough competition to Whatsapp in the coming days, according to the experts.
Privacy: In Whatsapp, your data, like details (name, phone number, and payment details), last seen, and other sensitive data, can be shared with Facebook, which is the app's owner. Although Whatsapp promises end-to-end encryption for personal and group messages, you have to tweak that in the Settings option for better security. In the Signal app, every message you sent to people is end-to-end encrypted and cannot be shared with a third party.
Media sharing options: It would be wrong to describe both the apps merely as 'Messaging apps.' Whatsapp is widely used for sharing multimedia items, including photos, video files, audio files, and PDF documents. Signal has multimedia sharing features where you can share your own location, including the media as mentioned above files as well.
Web Usage: Whatsapp has its own app for web users and platforms like Microsoft Windows, Linux, Mac OS, and others. Signal has a desktop version, which can be operated on these platforms.
Import of SMS/MMS: Whatsapp is an app of its own and does not require permission from your phone's messaging service. However, in Signal, if you agree to read the SMS/MMS of your device, it will read all your messages from the device and automatically become the default SMS/MMS app. If you are using any third-party SMS app currently, then the permission to read the SMS will not function once you agree to Signal.
Phone Number: Whatsapp is largely dependent on the phone number of a user. In case you lose your phone or your number gets changed, it will be hard for you to either get any messages or change the number. Whatsapp also states that the user's number should be active all the time. However, Signal does not have a problem regarding this. However, you can change your number in Whatsapp through the 'Change Number' option in the 'Settings' section.
Notifications: In Whatsapp, your messages and notifications are put on hold in case you are offline, or you did not remain active for a long time. However, this is not the case with Signal. The messages and notifications sometimes do not get delivered to the contacts if you have not used the app for a long time.
Operation: Whatsapp generally works in every country across the globe, but cannot penetrate through the countries with internet censorship and where the app is prohibited from public use. However, Signal, being a comparatively new app, can be activated at any location around the globe, and censorship does not affect it much.
Server: The server of Whatsapp is open-sourced and cannot be traced to a particular location. It has offices around the world from where every operation is conducted. Signal is a US-based app, and according to the NSA letters, it is mandatory for users of Signal to provide all the data to the state of the US, where the servers of the app are located.
Additional Features: You can post 30-second clips or photos on Whatsapp for a duration of 24 hours. In Signal, there is a certain feature named 'Note to Self,' which can act as a reminder for your daily chores.
Conclusion:
It is up to the customer to choose what's better for them. Every user may not want to give up the data to third-party sites, and this requires choosing an alternative. Signal has been approaching as a competitor to the most used messaging app in the world. Tech Experts and entrepreneurs like Elon Musk are also encouraged to use this app. So, the users really need to make an informed decision.