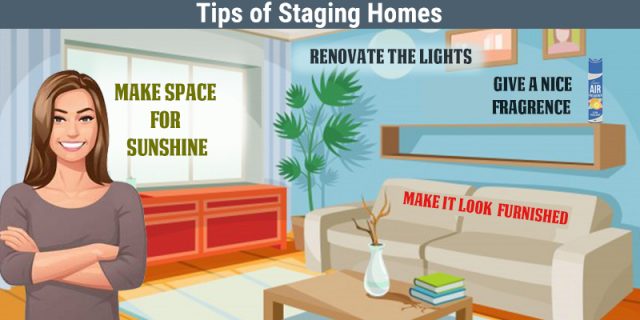 Are you looking to stage your residential property in Noida, Delhi, Bangalore, Mumbai, or in any other metro cities? No matter if you are a novice home stagier or have tried your hands in home staging before, this curated list of professional home staging tips will definitely keep you ahead of the curve. So without further ado, let's get started.
Make Your Home Smells Good
To make your home warm and inviting, make it smells good first. The scent of a home determines its freshness so don't spoil it by using artificial room fresheners. Instead, invest in some great scented candles and/or some organic flowers. Look carefully for any sources that are generating bad odors and remove them. 
Renovate The Lights
To use the maximum lighting effects, go for high-wattage bulbs. Also, make sure that you are not overdoing, as bright is not always right. Use different lighting options such as chandeliers, table lamps, dimmers etcetera to set the right mood. 
Mirrors Matter
Use bright lights in the rooms having mirrors and place the mirrors just opposite to the light sources. It is advisable to place the mirrors opposite the window to increase the visual square footage. 
Don't Overlook The Bathrooms
Try to give your bathroom an atmosphere like a spa by adding folded and fluffy white towels, some selected decorative items, a clean and smooth soap bar, eucalyptus, and other bathroom safety products. Fill and repair any holes or blockages before inviting potential buyers to visit. Keep it shining and inviting. 
Play With Textures
To attract the potential buyers visually, play with the layers and textures. Textured pillows on the sofa look more inviting than the casual ones. You can also use textured bed sheets and pillows in the bedrooms according to the theme. 
Experiment Your Arts
Use big arts on the walls like paints or canvases and put it above 60 inches from the floor. Adding an art above the sofa, console table, dresser, fireplace mantle, or sideboards compliments the look of the room. This can make the wall space looks larger. 
Less Attracts More
Look for the extra items on tables, extra art pieces, pillows, unnecessary clutters and remove it all. Thoughtfully placing few well-chosen accessories will make the rooms look spacious and inviting. If there is any furniture you are not using for a while, keep it aside from the room to make it look more spacious. 
Make It Look Perfectly Furnished
Place the furniture properly to enhance the look of a room. Make sure that the room doesn't look cramped due to the furniture misplacement. You can also customize the ordinary pieces of the furniture by adding new handles, legs, paints, or anything else to make it look tempting. 
Consider the Colors
While setting the color for a room, keep the wall color and the colors of the stuff in the same room in contrast. The room art, rug, decors, pillows everything should belong to the same theme so these look complimenting each other. 
Dark Looks Appealing
Most people fear to churn the possibilities of using a dark theme. But once a dark theme used wisely, can work wonders. Using dark pieces or paints in the right places add a depth to that place and create drama and mood.  
Paint Or Repaint
Before staging a home, painting it with a fresh coat can make a big difference in its staging possibilities. It becomes more visually appealing and gives the taste of freshness. This is also inexpensive when you do it by yourself. 
Centerpiece Makes A Difference
Don't use too much stuff as centerpieces, in fact, limiting it to two or three stuff is a game changer. For instance, placing one or two hardcover books, a plant, and another eye-catching object will do the great work as the centerpieces on a table. 
Make Space For The Sunshine
When you let the sunshine come in a room, the space of the room looks more appealing and larger. Replace any dated, dark, or heavy window coverings that are blocking the sunlight with light and simple panels. 
Master Bedroom Mastery
To make a master bedroom inviting, you need to make sure that it looks appealing to both of the sexes. Paint it with a neutral color and remove any stuff that is too gender-specific. The accessories and bedding should be chosen in a similar way. 
Fix Pet Odors
Pets are lovable but not the pet odors. Make sure to remove any old carpet that causes the smell. Repaint the walls if needed to replace the pet odor with a fresh paint smell.
 The above staging tips are good to be followed if you are looking to stage flats in Noida, Delhi, Gurgaon, Mumbai, Bangalore, Kolkata, or any other sound places.