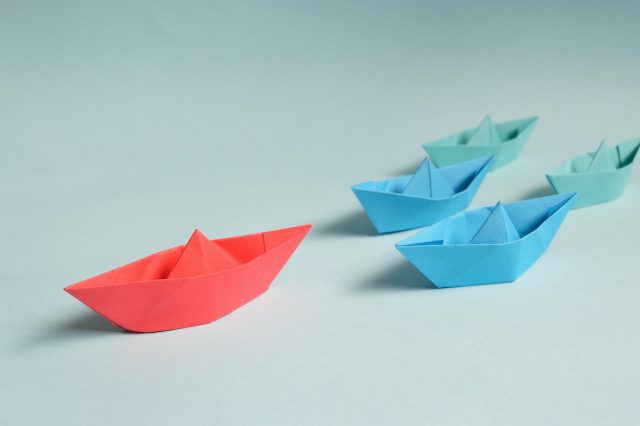 The pandemic due to COVID-19 has sent the entire world spiraling into a chaotic vortex, leaving people scrambling to find some sort of normalcy and familiarity in their personal, academic, and professional lives. However, the pandemic is here to stay for the foreseeable future. People and businesses are slowly trying to learn how to live with it, and as such are looking up to their leaders to help them get through it successfully.
The way I see it, instead of viewing this pandemic as an unassailable obstacle, we should take it as an opportunity for starting anew. With the entire system shut down, companies are being forced to come up with innovative ideas to increase productivity and improve their performance. A similar situation of turmoil occurred in 2008, following the disaster of 9/11, after which too, things changed drastically. There occurred a financial crisis following which a new form of normalcy could be established, only with the guidance of the pioneers and community leaders from different walks of life.
The following are the three key leadership skills that would be essential to lead the world in the midst of and also after the current pandemic.
1. Leaders should focus on constructing efficient teams that are well-coordinated, in spite of the employees working from their homes.
Every company is now following a different schedule for their employees to work remotely; could be part-time or even full-time. But in either case, the regular 8-hour workday has been entirely forgotten and they have also found the work-from-home experience to be very beneficial. With the employees now being provided with flexible working conditions, their productivity has gone up and with them working from their homes, office expenses have been reduced.
With things turning out for the better, it's possible that companies might change over to a flexible work schedule. It might not be absolutely essential for an employee to be physically present in the office, except to attend necessary meetings. This is a very crucial time for the employers to come up with creative solutions to boost employee morale and productivity. Such remote working conditions can bring with it, feelings of disconnect and people tend to lose interest if they feel under or unappreciated for their efforts.
Every organization has its set of prized employees, who's efficiency has greatly benefitted the company. An essential part of leadership is to hire appropriate employees, train them and also to make sure that the star employees are retained. A constantly changing team will bring with it, certain inconsistencies and COVID-19 has managed to disrupt many such workforces. Hence, it is necessary to develop certain leadership skills to make sure that even cross-functional teams can work seamlessly by developing the following:
Effective communication skills: Effective communication means discovering the best way to communicate with an individual, so that information is passed on correctly and efficiently. Effective communication not only saves time but also improves the quality of work that is done.
Developing interpersonal relationships: The mark of a good leader lies with their ability to empathize, especially during tumultuous times as these. When an employee feels that their employer genuinely cares for their well-being, productivity and consistency rise.
Regular meetings: Meetings are an essential part of working. Efforts should be made to have regular video conferences and a monthly-meeting which takes place in-person, with all necessary precautions taken. Person to person communication and group discussions are an integral part of understanding the bigger picture and make sure that the set goals are met.
Showing appreciation and recognizing talent: It's human nature to seek appreciation for their hard work and efforts. As an employer, it is very essential to make sure that their employees are encouraged adequately and appropriately by means of incentives or bonuses or gift cards. Another crucial role of the employer is to identify the individual talents of their employees and shuffle them towards suitable tasks, to improve workplace efficiency.
2. Leaders must possess the ability to quickly adapt to, cope with and overcome change, all the while retaining their focus on the set goals.
To say that this year has brought with it, the tremendous change would be an understatement. We have gone through wild Australian forest fires, a volcanic eruption, floods, hurricanes, a pandemic and a racial discrimination crisis that has got the entire world shook. The economy has taken a severe hit which has affected individuals and businesses alike. To navigate such dire conditions, it is essential to develop certain leadership skills that are culturally and logistically appropriate and would cater to developing a working environment that makes the employees feel safe and valued and accepted for who they are. They must make sure that the workplace is free from all kinds of discrimination based on factors such as religion, race, sexual orientation, gender, socio-economic status, etc.
A company must always be run with its long-term goal in sight. Always visualizing the ultimate goal, will help leaders to develop fast-moving strategies that will promote targeted change. This will also help in prioritizing goals, prevent derailing and making sure that the business is smooth running. Assignments should be appraised with the final goal in mind so that the company's mission is not lost while trying to implement the much-needed change and managing the new system of working.
The vaccine for COVID-19 doesn't seem to be getting ready for usage any time soon and with no absolute cure also found for the infection, a secondary wave of the pandemic has been predicted to hit countries globally. Unless drastic and genuine reformations are undertaken, discrimination will continue to occur, unchecked. It must be noted that organizations must make necessary decisions regarding the change, based on facts and not on the bias, by improving their ability to understand and process data efficiently.
Data analysis is an essential leadership skill and a much-needed one, especially in fields of marketing, logistics and finance. If you lack sufficient or any expertise in that, it would be wise of you to complete an online course to enhance said skill. There has been quite some emphasis on the necessity for data analysis, of late and given the current economic conditions, courtesy of the pandemic, its importance is only set to grow further as 2020 progresses.
3. A leader must be sensitive to the emotions of the employees and retain cultural appropriation while handling a complex work environment and while the company is going through changes.
The pandemic has brought with it a considerable level of stress and anxiety, on the whole, and on an individual level and as such the times are very challenging, for everyone. An important leadership skill that is necessary to keep up with the changing times is flexibility and adaptability. A leader must improvise operations, to meet the changing needs and demands and to bring in reforms. There is a need for empathetic and compassionate leaders who will be able to carefully navigate through the tumultuous emotions of their employees, individually and as a whole. Doing this will ensure that every individual thrives in the workplace by aiding companies or organizations to set appropriate initiatives or goals.
Although there may arise numerous challenges ahead, I am sure that veracious leaders will rise to the occasion with integrity and intellect. The position of power is not what makes one a good leader, but rather the drive and the desperate need to excel, not just for themselves, but also for the others.