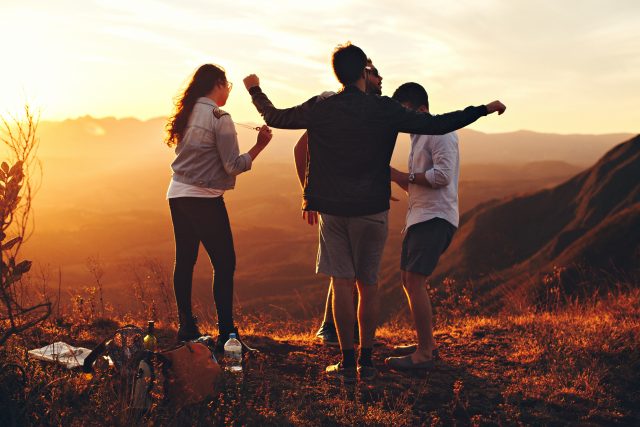 Los Angeles, CA is not only a city of celebrities and Hollywood Stars but also a point of attraction for most of the tourists around the world because of its uncanny beauty and the amount of places LA, Ca has to offer to tourists
If you're adventurous and have a knack for traveling to most amazing places around the world. Then this list will surely help you keep in mind the must-go-to places if you're planning to visit local places in Los Angeles.
Runyon Canyon Park
Runyon Canyon Park is known for two things:
Hiking craze in people of LA, CA.
You can find celebrities visiting Runyon Canyon in fashionable active wear.
Los Angeles is famous for its people not having the nine-to-five schedule but the schedule depends on the kind of work they do. Like, TV actors, or cameramen having worked in some late night shows and nothing to do in the morning so why not hiking to this beautiful place to enjoy a view of LA.
2. Hollywood Bowl
Hollywood Bowl is the largest natural Amphitheatre in the U.S. and a must-go-to place to experience the Southern California style. Although classical music has a fair share here, it is not entirely highbrow: On Tuesdays and Thursdays night, classical concerts are played for everyone. Wednesdays are meant to be for Jazz lovers as Jazz legends perform in the Bowl. You can also catch Hollywood stars swinging on the stage including One Republic, Justin Bieber, and many more. You can also find events like annual Mariachi Festival and Native American musical events if you're lucky.
3. Gjelina
Gjelina has become quite a famous spot located in Venice Beach, famously known for its amazing outdoor patio and delicious wood-fired pizzas. This place, without any publicity, was able to attract celebrities like Taylor Swift and Beyoncé to pay a visit. What to try? The squash blossom pizza is the top priority of customers and tourists whenever they visit Gjelina.
The other attractive aspect is its constantly changing menu, means that having classic pizzas being same, it constantly updates its menu with delicious new dishes means you can always try new things while going at the same place.
4. Farmer's Market
It is way more than a market or any shopping mall. Farmer's market at the Grove is famous shopping destination in Los Angeles. If you're a foodie, you can find any and every kind of food imaginable here. The cast of Friends shows used to have lunch here during shootings. It offers every kind of facilities and environment for people of any nature. From noisy streets to quiet places if you want to work and have a cup of coffee and trying to avoid the crowd. This place truly portrays the history of LA with events and places to offer to tourists to give them a taste of LA, CA.
5. Staples center
It's a multi-purpose sports arena in Downtown, LA. Home to the Los Angeles Kings, Los Angeles Lakers, Los Angeles Clippers and Los Angeles Sparks. Staples Center houses pro basketball and hockey teams and also hosts one of its kind major concerts. It exists in the heart of downtown, LA and famous for the restaurants nearby and having a famous Los Angeles nightlife. A trip to Los Angeles wouldn't be complete without actually watching a game here. You can catch any NBA matches and the energetic crowd cheering for their favorite teams and players, or you can also find concerts happening over here.
These all places are must-go-to places when you visit Los Angeles. The most amazing part is to share the stories and pictures of all of these places in the world. Another amazing thing which these places provide is the high-speed internet to all the tourists and customers to share their experience. You will find a lot of public Wi-Fi hotspots of Xfinity Bundle Deals to connect to your smartphone and share your experience with everyone. High-speed internet in LA provides everyone the chance to instantly sharing their experiences and stories to share with everyone on social media. We hope that you'll like these places as much as we do.