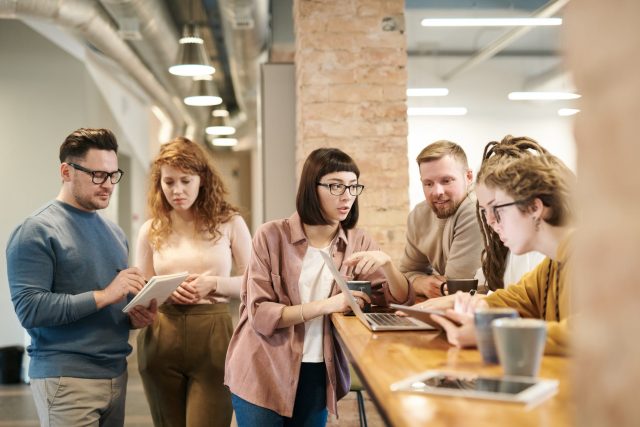 #1 Alberto Gil Co-Founder of Hockerty
Employee engagement is key to the performance of your organization. Especially on organizations where the teams are relatively small to the size of the business, you can't have just mercenaries exchanging hours for money. You need passionate individuals about the business and its mission. There are several ways to work on this engagement. It all starts on recruitment, working close to your employees, know their motivations, needs and concerns at every moment and provide them with tools to know more about the business, to keep learning and to remind them that they participate in an organization with a mission they like.
#2 Alison Bernstein Founder of Suburban Jungle
The key to maintaining engagement when working remotely is staying in touch.. daily. I highly value one phone time with my employees, as they can always provide me feedback on what's working, what can work better and the trends they are seeing in the market. This allows us to adjust and evolve in real-time.
As for other ways of keeping the team tight, we have weekly calls, monthly meetings and are all connected via Slack on a daily basis. Slack allows us to keep an ongoing conversation -whether it be about our latest blog post or press hit, to share our accomplishments, congratulate each other and more. Our monthly breakfast in-person team meetings serve as a sensational way to brainstorm, reconnect and all come together to powwow.
As for celebrating and socializing, I traditionally invite the girls to my house for a festive holiday brunch for the December holidays, and a day or 2 in the summer to our home out east in the Hamptons – to which their families are invited as well.
Follow Suburban Jungle at Facebook Instagram Twitter LinkedIn
#3 Derek Perkins CEO of Nozzle Corp
Appreciation is the key to employee engagement
The best way to foster a culture of engaged employees is to express sincere appreciation early and often. People want to be appreciated. Look for as many things as possible each week where you can express appreciation and you'll see employee engagement rise.
Follow Derek Perkins at LinkedIn Twitter
#4 Jovan Milenkovic Founder of KommandoTech
Employee engagement is a series of activities an employer initiates to engage or motivate employees. It aims to positively impact employee retention or the percentage of employees that keep working for you.
There are numerous ways to engage your employees. The most important way is to set up the company culture so that employees aren't just the hands that perform the tasks they're given. By keeping the communication open and asking them to shape their roles and activities actively, your employees will engage in delivering better results.
Besides valuing their professional expertise and asking them to contribute to shaping the business, asking them about their working environment keeps employees engaged, too. For example, frequent polls that are asking whether people value flexible hours, or more vacation days more. I find that employees are especially engaged when you ask them to take part in shaping the most appealing set of benefits for them. Not everybody has the same situation, and people appreciate it when you take the time to create custom benefit plans.
Follow Jovan Milenkovic at LinkedIn
#5 Brandon Chopp CEO of iHeartRaves
"We consider our company culture and team member engagement a very important part of our company and we have lots of programs and efforts toward maintaining a high level of satisfaction. This is based on recurring internal surveys. We constantly strive to create a healthy work-life balance, and one of the things we've done is created a full-time position called "Director of Happiness". The primary responsibility is team member engagement and morale. We also allow our team members to have a flexible work schedule. We understand some people aren't morning people, and so they're allowed to come in late, as long as they stay late to make up the time. We also allow team members to work from home occasionally. Another idea we implemented was providing transparent and open recognition which is given by fellow team members and then projected onto a 10-foot high screen on the front wall of our office. Each recognition is also tied to one of our core values. Additionally, we give personalized birthday celebrations, free music festival tickets as rewards, and a team member of the month award. Lastly, we do a monthly town hall meeting recognizing the major wins of each department followed by free lunch and games. We are certain that these kinds of initiatives lead to greater innovation, decreased turnover, and happier employees."
#6 Tyler Butler Founder and CEO of 11Eleven Consulting
In today's socially conscious society employee engagement is more important than ever before. Employees who are more engaged are more likely to be productive and also to have greater longevity in their roles. In fact, the Cone Communications Employee Engagement Study found that 74% of employees say that their job is more fulfilling when they are provided opportunities to make a positive impact at work.
So, it would hold true then that businesses that engage employees through meaningful programs would have greater success. Implementing employee volunteer programs and resource groups related to diversity and inclusion can be real game-changers. By engaging employees in volunteering for meaningful causes, a greater sense of pride and loyalty is fostered between employee and company. Not only do team members feel good about the place that they work, but they also become more productive, have a greater sense of happiness and are typically more likely to serve as positive brand ambassadors for their place of business.
Additionally, employee resource groups (ERG) are a great way to enable and elevated a sense of engagement from team members. The opportunity to bring together disparate members of your employee population in order to champion a cause, educate them on issues relevant to them and create a sense of community are amazingly effective when looking to improve upon employee engagement. Implementing these programs can be a daunting task, however, having a pro in the corporate social responsibility space can quickly turn these concepts into programs creating measurable, lasting results for any business. And from the entrepreneurial perspective, the visibility in the community that can be developed through these engagement activities can serve to build your business and create a reputation to be proud of.
Follow 11Eleven Consulting at LinkedIn Twitter Instagram
#7 Brian Formato is Principal at Groove Management
I work with many entrepreneurs and start-ups in setting their culture. One of the biggest mistakes that organizations make is that they confuse employee satisfaction with employee engagement. These are two very different things, yet many employee engagement surveys are set up wrong and they measure satisfaction rather than engagement. I define employee satisfaction as what you get from a company. This includes your salary, benefits, work environment, attention from your manager, the opportunity for advancement. Employee engagement is what you give to the company. It is the discretionary effort that an employee puts in. If an employee feels strongly linked to the purpose of the organization, the customers and their peers, they will be more engaged. To make it simple. Satisfaction is what you get and engagement is what you give. Entrepreneurs as founders are engaged because they view their work as their life calling. They are passionate and saw an opportunity that led them to take the risk and start a company. They must realize that everyone they hire may not feel the same way. Therefore, it is important to outline core values or guiding principles for a company and to use those as an interview guide when hiring people. There must be a cultural fit in order for employees to be highly engaged.
Follow Groove Management at LinkedIn Facebook Twitter
#7 Vara Kumar Co-Founder and CTO of Whatfix
Employee engagement needs to evolve with the workplace. In today's world, that means training manuals and handbooks can be made interactive, including more specific and engaging content. Companies, with the availability of digital adoption software, can now go even further than this and leverage interactive walkthroughs, which allow users to complete tasks without interrupting their workflow to sit through tedious videos or read dense manuals. The ideal balance is unique to each company, but usually involves a blended approach, which combines traditional methods with interactive digital guidance.
Follow Whatfix at Twitter LinkedIn Facebook
#9 Anthony Paradiso is President & Founder of AllThingzAP
In order for organizations to have successful talent, they must embrace and encourage engagement. Along with employee engagement, organizations need to make sure that they are diverse and have an inclusive environment. Employees should feel a sense of belonging. Engagement, diversity, inclusion, and belonging all coincide with one another.
Follow All Things APP at Twitter
#10 Stacy Caprio Founder of Accelerated Growth Marketing
One best practice to keep employees happy and engaged is to have in-person company retreats at least once per year. This allows team members to feel connected and to be able to truly get to know others in the company. Feeling connected at work is one key to staying happy and engaged and makes it more enjoyable for everyone involved as well.
#11 Sid Mohasseb Founder of Mohasseb
The purpose of engagement is to help them feel they own the results and contribute to the process > the reason is to 1) keep the employees happy, keep them productive, and help the company's innovation traction and ultimately the bottom line. To keep employees, engage many fall back on the ideas of empowerment. An idea that misplaces the priorities >, In the end, it is each and every employee that decides to engage and to contribute. Step one to engage is to flip the narrative and realize that they have the power and you need to get out of the way!
Don't Empower: Employees already have the power!
The premise of "empowerment" is not valid. In organization management, the broad assertion has been that leadership holds the power and can then transfer the power (empower) to employees to act, create, and achieve. This assumption is based on an industrial revolution-era set of command and control management models that has carried over to modern management. In reality, it is the employees that hold the ultimate power of innovation and creativity. Every day, the employees apply their critical thinking, experience, and education to conceive and shape a better future. Each employee can choose to apply his / her will towards success by fuelling his/her creativity and care for the company, its customers, partners, and his / her colleagues. To win in a future of constant flux, leaders have to learn to let employees unleash their power and learn to be empowered by employees.
#12 Attorney & CEO of LegalAdvice
The most important tip to attract, engage and retain employees is to ask the right questions from the very beginning of a potential hire. Training an employee is time-consuming and expensive so it is critical to hire a person who is eager to be a true expert at the job. A person that has a genuine passion for the job is more likely to be successful. Make sure that a potential new hire is not merely looking for a paycheck. A person must genuinely care about mastering the job and becoming an expert.
#13 Carlos Castelán Managing Director of The Navio Group
Communication is the key to engagement and productivity. Poor communication impacts employee engagement by making team members feel removed from decisions and devoid of any sense of ownership. Poor communication can lead to role ambiguity as well as heightened stress or anxiety because of a lack of feedback which ultimately leads to talent drain or other symptoms of low employee engagement.
One way for management to get ahead of this is to have regular check-ins with top talent to ensure they're engaged and working towards their goals as well as providing them with regular pay raises before they have to as
Perhaps the most important — yet often overlooked– a strategy that strong bosses fail to do is set a clear vision for employees which provides an understanding of why a team's work is valuable. Furthermore, they set clear goals to help individuals focus on work — and have autonomy – in pursuit of the company's vision.
Reinforcing the vision and goals through regular communication, both as a team and one-to-one, helps employees remember how their work furthers the organization's mission and increases engagement by making the work feel meaningful.
Communicating a clear vision and goals to employees allows them to understand how their work fits into a bigger picture and that they're making tangible progress along the way.
With an extremely competitive job market, employees more than ever have options if they are not engaged or unhappy at work and will seek new opportunities. It's easier to retain star employees than to try to replace them – particularly in an age where talent is a limited resource. So, providing meaningful work is key to engagement, productivity and employee retention.
#14 Jayson DeMers CEO of EmailAnalytics
Employee engagement is critical for improving productivity in the workplace. Highly engaged employees are 38 percent more likely to report above-average productivity. However, 70 percent of employees are not engaged, according to Gallup research.
Engaged employees have a 14.9 percent lower rate of turnover, which saves their company significant money over time.
So how do you improve employee engagement?
Give employees recognition so they feel appreciated.
Provide employees development opportunities so they can learn and grow.
Show empathy to employees. Stress is inevitable, and people will make mistakes. Showing empathy enables employees to connect with you on a human level.
Host bonding or team-building activities. To be engaged, employees need to feel a human connection, whether that's to their bosses or colleagues. Make employees feel like they belong. Part of feeling engaged is feeling like you belong.
Follow Jayson DeMers at Twitter LinkedIn
#15 Jake Hay Partner and Head of Development at PopShorts
I think that employee engagement can be crucial for a company in many different ways. Creating an engaging work environment that people enjoy means better retention and a higher quality of work. When it comes down to it, I've found that if you like where you work, you will do good work. Employees feeling connected to their company brings benefits to both sides. Companies have employees that trust them, while employees can be proud of where they work.
Follow Jake Hay at LinkedIn
#16 Saurabh Jindal Founder of Talk Travel
Employee engagement is important to make the employees keep engaged and motivated. When employees engage in active discussions and give thoughts, it leads to better output. Also, it leads to enhanced loyalty towards the company and every company wants to keep its best performers with them for long. Employee engagement doesn't mean undue liberties for the employees and if such situations rise then you need to set the limits. In any situation, you have to very honest with almost everybody. Give them a very good idea of the work profile, responsibilities, expectations and career growth path, and make them an essential part of the company.
Follow Talk Travel at Twitter
#17 Wid Covey Founder of SeniorLeaf
For an entrepreneur, they usually are running a small company or have a big idea and are trying to grow it and surround themselves with a small trusted team. It is vital that each employee on the team is fully engaged. When you are starting something new everyone's ideas are heard. It is very easy to get caught up in ideas and go down paths that can kill or grow your business. It is good to have a contrasting view (so not everyone is drinking the kool-aid). It is critical that entrepreneurs surround themselves with people wanting the success of the business as much as they do. Employees that are not afraid to speak the truth and are engaged.
Follow Wid Covey at LinkedIn
#18 Bryan Clayton CEO and Co-founder of GreenPal
I've been in the landscaping industry for 15 years. I started cutting grass in high school. Over the 15 years, I grew that business to over 100 people and sold that company last year.
What has worked for me and my best advice to leaders on building a strong team of loyalists is to rally everyone around the central "Why"
Why does our company exist?
When I was running an organization of that size proved it was daunting, however, creating something bigger than myself was a fulfilling experience. Our company created prosperity for our people and that's why we did what we did. Much of our operating core was comprised of Guatemalan immigrants and these were the finest people I have ever known. Typically, they would come to the United States for several consecutive lawn mowing seasons, saving as much money as they could to improve the lives of their families back home by building homes, ranches, and setting up farms stocked with cattle.
This became our company's purpose, our "Why." In weekly meetings, we would get progress reports from our men on how projects "back home" were coming along. In the halls of our office and in the shop we displayed picture collages of all the homes, farms, and businesses that had been established by our people in Guatemala. Celebrating these victories gave us fuel to get through the tough times, particularly when the economic recession that began in 2009.
Follow GreenPal at Twitter
#19 Jill CEO & Founder of Jill Raff Group
Employee engagement is the life-blood of your business. So much so that it is the middle principle in my E3 Principles in how to teach and treat your employees: Educate. Engage. Entrust. Engagement is essential throughout the process of an employee's tenure with a business for that business to thrive. Everyone wants to matter, to be seen and heard. When an employee's thoughts and ideas are heard and tried out, they're a part of the solution; they're a part of the team; they are engaged. Engagement is a cure for heavy turnover and higher profits. When engaged, an employee is happier thus less likely to leave, and highly engaged employees bring in 147% more earnings.* Likewise, Gallup reports that to replace a disengaged employee, a business pays, on average 34% of that disengaged employee's salary.
Calculate what you're business is losing in disengaged employees, and I think you'll agree that employee engagement is vital to the health and growth of one's business.
Follow Jill Raff at LinkedIn Instagram
#20 Paige Arnof-Fenn Founder & CEO Mavens & Moguls
Great brands are built on great stories. In early days of mankind, stories were a great way to communicate around the campfire, they are critical to the Bible and they are still effective today in attracting the best employees and customers People do not remember facts and figures but if you tell them a story that touches them emotionally you get their attention and they want to hear more. People need to be educated, informed and/or entertained so figure out how best to tell your story in a way that makes them pay attention and breaks through the noise. Focus on the benefits to them not the features of your product or service. Stories create fans who will help you sell! My best tip is to stop selling and start sharing. If you share what you know — your passion, your war stories, the good, bad and ugly — the content will flow and pour out of you. The stories will be interesting and the lessons will be real, people will remember you and come back for more. Once your employees internalize your brand story they will share it with your customers in authentic ways that are relevant to them which absolutely builds a strong culture and makes for unique and memorable customer experience.
Follow Paige Arnof-Fenn at LinkedIn
#21 Andrew R Taylor founder of Net Lawman
Without further ado, employee engagement is I suppose only somewhat essential to the success of an organization. I don't personally believe it has as much held as what others would say, I just honestly think it is more ideals than the reality that has them saying this.
Yes, it sounds like employee engagement is critical to the success of a business, however, it all begins with a solid foundation and a firm understanding of expectations and the responsibilities that the organization has for their clients. This is really down to the CEO, the founder, the director, etc.
To a certain degree, of course, employees need to engage and they need to be respectful, responsible and to take the initiative, although I do not expect more than they can handle. For them, good work/life balance is essential.
We don't need another 'Dave Eggers – The Circle' here
#22 Michael Lowe CEO at Car Passionate
I set goals that inspire and motivate my team, as this helps promote engagement and encourage them to follow you and your company. No matter your own talent, work ethic, and vision – 99% of people would fail to get there without the support of their team. If your team doesn't believe in your vision then they won't engage and help take you there.
Sharing and setting your goals with your team will make them feel included and on board with your vision. Having everyone pull in the same direction really builds your team and eases the path to success.